Our company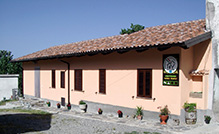 Acquabianca farm offers its guests three apartments furnished in local style. During the vacation you can spend a pleasant and peaceful stay with your family, and immerse yourself in the green of untouched nature.
In the farm you can taste the products of our land treated naturally, without the use of chimical substances, as if time had stood still.
Depending on season, you can taste tomatoes peppers bran ( spicy and green), green beans, potatoes. With old recipes we produce ham sausages, "soppressata", "capicollo", cheese and homemade bread. On reservation we prepare fresh pasta. Other natural products are: wild mushrooms, strawberries, cherries and chestnuts.
Among the farm's specialties we have the homemade liqueurs with natural products: " limoncello", "fragolino", walnut, cherry and the very good blackberry, chamomile and mint liqueurs. A real treat is the drunk chestnut, made with roasted fruit topped with high-grade alcohol and rum.
Acquabianca farm will soon make available the catering service.